TORQUE MONITORING
We proudly present an integrated monitoring system which assures real time diagnostic of valve and actuator performance allowing predictive maintenance and guaranteeing the highest safety level (SIL) of the plant. All data recorded by the system such as actuator pressures, position and torque on valve stem are captured by data acquisition system and transferred to PV headquarters. Data is then elaborated and analysed so that any spurious or degraded performance of the valve is identified, allowing maintenance planning in advance.
DATA ACQUISITION SYSTEM
The system is composed by sensors and position transmitters, connected to data acquisition and elaboration system. Actuator pressure and valve position are monitored in real time and transferred to PV's analysing centre. In case of non-optimal valves performance, an alert signal is generated and sent to the customer so that maintenance can be planned accordingly. This is possible thanks to a dedicated algorithm for each valve type that includes statistical comparison between theoretical valve signatures and data recorded during the working valve's life.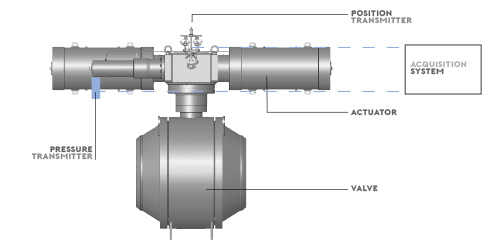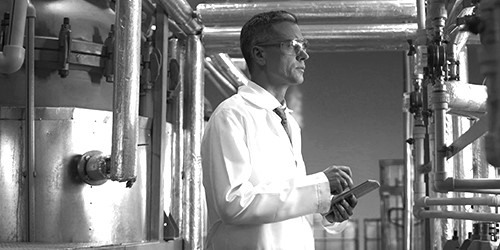 REAL TIME MONITORING
Data transferred to PV are elaborated in real time, torque curves are compared to theoretical valued and previous recording. In case of discrepancies a deeper analysis is conducted to verify valve and actuator performances status, and establish a maintenance plan in case of need.
MAXIMUM PERFORMANCE
This allows to guarantee the maximum performance of each valve and to prevent malfunctions without running the risk of stopping the production process. And in the perspective of long-term partnerships, it also allows PV to produce replacement valves or spare parts anticipating the future needs of each customer to ensure time optimization and maximum efficiency.